First Steps - Modes and Characters
---
Light began from a point in space-time
- Anonymous

Hello friends from the light world!
It has been a rocky start for us as we scrambled to work according to our jobs, but we're doing well nevertheless. The workload is huge for a semester project, so we decided to do a "trial" version as a backup plan if the time's not enough. The updated GDD provides a little more information regarding the game's mode and characters, the latter of which will be comprehensively released next week.
Before we continue, a bit of a disclaimer: The design for this game was made - partially - on July as part as a Personal Project. While technically everything should be possible to finish in the allotted time, there's no guarantee. Levels, mechanics and map layouts may change depending on circumstances, but we'll keep it from changing... hopefully.
Well, that's not a reassuring thought, is it?
For those who are too lazy to even download a 50kb document, here's a summary of the available game modes:
Story Mode relies on a seamless transition between levels. This means that the only thing separating 2 levels was a simple fade and a story. No level complete dialogues, nor will there be a "You Died" message from Fallout 4!
Bonus Objectives unlock after finishing a level in Story Mode. Replaying a level after finishing it will allow you to retry the level, but finishing it again requires you to complete 2 objectives.
Speedruns can never bore a player, or so they said. Unlocked after finishing the whole Story Mode for all levels, the objective of the speedrun is to basically restart Story Mode and finish all levels as fast as possible. There WILL be dialogues and those dreaded "You Failed" or "You Died" message, though!
After completing any game mode for a level, you can choose which mode to play after picking the level in the Level Selection screen!
Moving on to Characters, there are 3 main characters and one additional. As some might be too lazy to download a 50kb document, here's a summary:
Kevin the main character. You'll control this guy through levels!
Lisa the guy's wife. You'll hear her voice often in the first few levels!
Louis the guy's brother. Older brother. You'll meet him, don't worry!
Brandon the "some others" guy. In short, he's a baddie! You'll be fighting against him later on.
Here's Lisa and Brandon in Human form. All characters in the game has a Human form and a Monster form, so get used to them, 'cause you won't be seeing these often!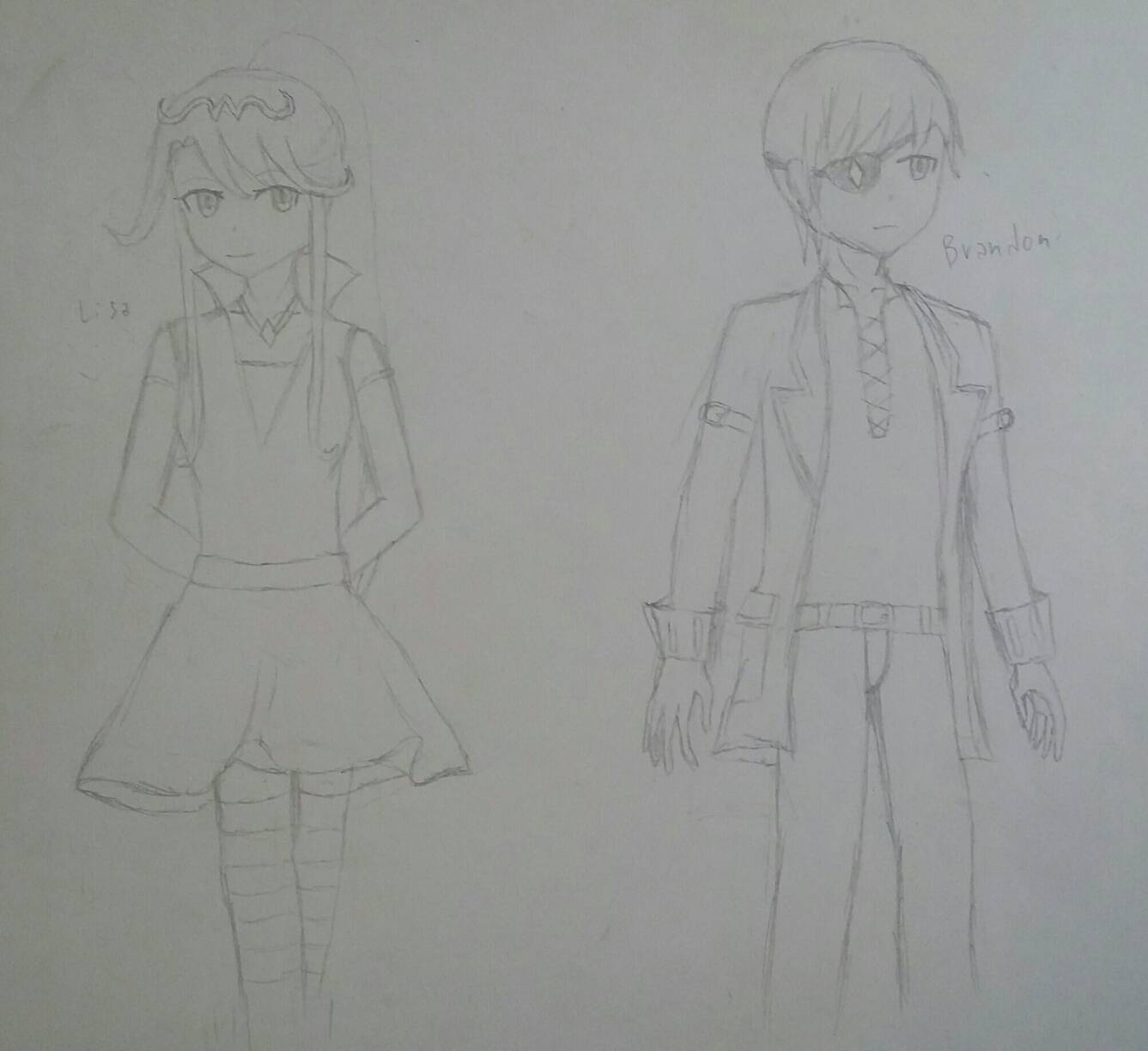 Did you see a similarity? Perhaps, perhaps not. For those who are confused, check out Eternity Vengeance. Well, some lazy people might even be too lazy to even click a link, so here's a reference for you: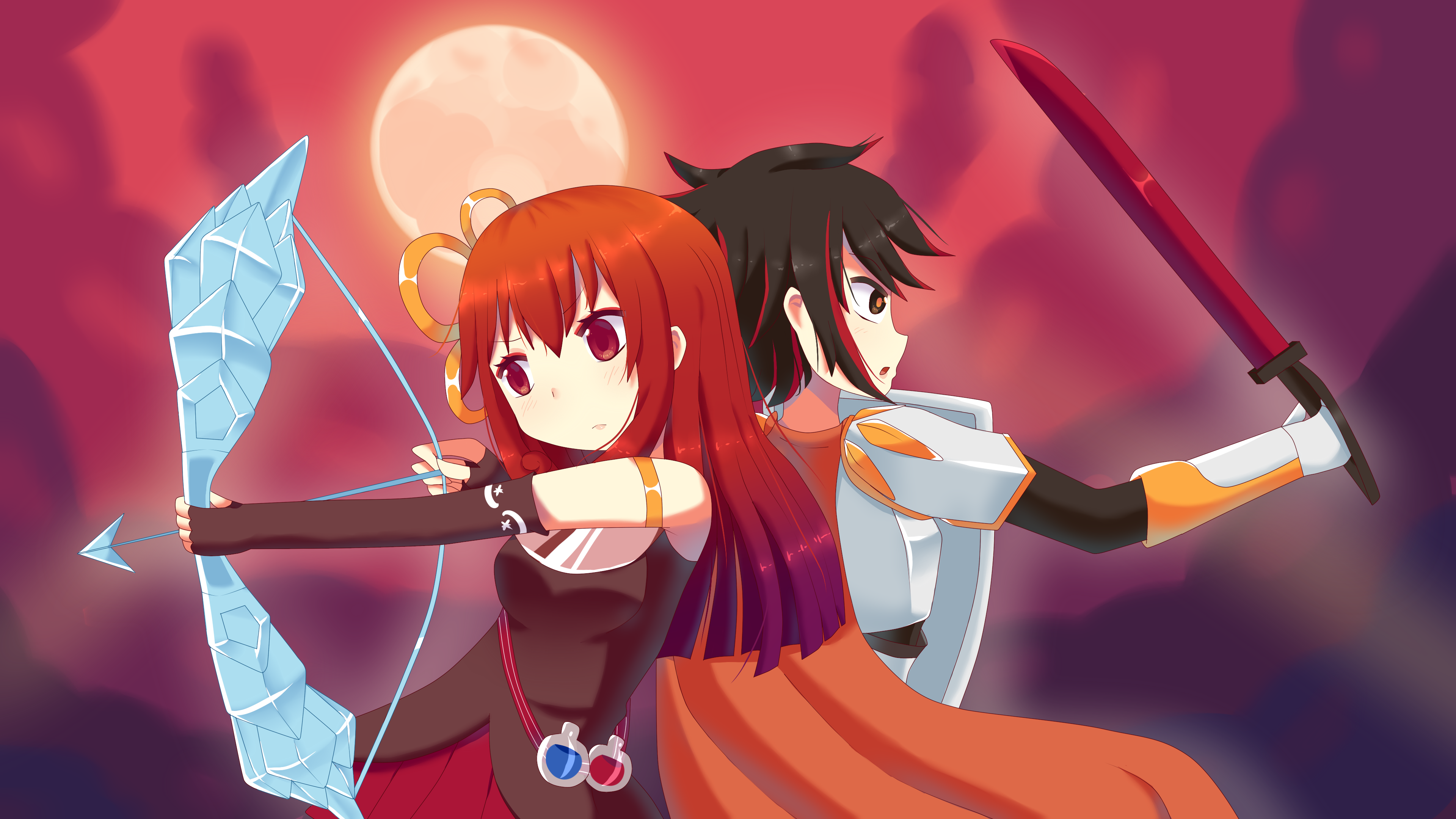 OH MY GOD IT IS QUITE CLOSE

Uh... sorry for that. It's not quite close...
Anyway, as a weekly insight, here's a full view of the 1st level (P.S You might need to right-click and view the image in full screen):

Not bad, huh? This was the work of Grace, our Map and UI Artist & Designer. It feature flat grounds for any puzzles and - of course - the crystal, and tall hills to accommodate for tutorials, Bonus Challenges and hurdles for speedruns. The first level seemed to be easy, but it will get harder from here on out. This is the first level after all.
This marks the end of this week's devlog. Next week, we'll talk in-depth about the characters. Until then, adios amigos!